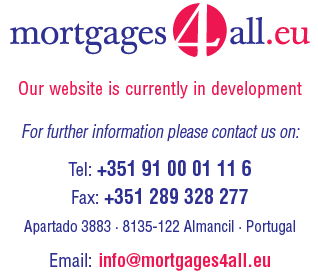 Mortgages4all has established a reputation as a market leader when it comes to providing innovative international mortgage products for Portugal and Europe. We offer our clients a full mortgage portfolio that includes: second mortgages for Portugal and Europe, the wholesale mortgage, self certified mortgages (self cert mortgage) for Portugal and Europe and the Portuguese investment mortgage.
Portugal offers a vast range of property types that appeal to different types of buyer. Some are investors, others are families looking for a holiday home, whilst others still are lifestyle buyers looking to take advantage of the Portuguese climate and relaxed way of life. This diversity of buyer and property type has led to a wider range of mortgage products, designed to suit each buyers particular needs and circumstances. The mortgage network in Portugal now includes mortgage lending options such as: the self employed mortgage, the land mortgage, the fast track mortgage, the residential mortgage for Portugal and Europe and even the btl mortgage (buy to let mortgage) for Portugal and Europe.
In the last few years, there has been a boom in real estate construction and development in many areas of Portugal. Along the coastal zones of Portugal, such as the Algarve, Silver Coast and Blue Coast, the construction of a large number of luxury developments and holiday and retirement homes has attracted property buyers and investors from around the globe. Property investment in Portugal is now more popular than ever as investors move money from unpredictable financial markets in to bricks and mortar. Not only does property investment in Portugal provide excellent returns, property investment gives the investor the option to rent or enjoy his or her investment whilst its value appreciates.
Buying property in Portugal with a Portuguese mortgage from a Portuguese mortgage lender has a number of fantastic benefits. Firstly the Euribor (Euro Interbank Offered Rate) is historically lower than the LIBOR (London interbank offered rate) which means the cost of borrowing for a mortgage in Portugal is normally less than the cost applicable to an equivalent UK mortgage. Additionally set up fees for a Portuguese mortgage are considerably lower than in the UK as are property valuation costs; mortgage redemption fees are fixed by the government at only 0.5%.
We can provide fantastic deals on Mortgages for Portugal no matter what your age. As a Non-Resident you can normally apply for around 80% of the loan to value. There is no upper limit and a maximum term of 30 years up to the age of 80 years of age. For example, a 20 year Portuguese mortgage is available for someone aged 60 at the time of purchase. Residents can borrow up to 90% of the loan to value under these terms. Both repayment and interest only mortgages for Portugal are available with fixed and variable rate options.
Using our mortgage finder service, the process of Mortgage approval is a hassle free experience that gives you access to some of the lowest mortgage rates on the market today. Our mortgage terms for buying in Portugal and Europe are second to none, so Whether you're looking to find a mortgage for your dream Algarve villa or even change mortgage on your Lisbon apartment, all you need to do is fill in a simple online mortgage application and we'll forward it to the best mortgage providers in Portugal. There's no need for time taking mortgage comparisons or days spent sifting through brochures or piles of mortgage information as we do all the work for you. And the best part? We don't charge any mortgage fees as we are compensated by the mortgage provider on the successful completion of the sale. In fact, with Mortgages4all, it has never been easier to obtain mortgage funding for Portugal.
Mortgages 4 Portugal | Quinta do Lago property prices | Property management services Algarve